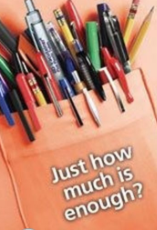 Deeply wounded...just how much is enough?

Patricia Ann
But He was wounded for our transgressions, He was bruised for our iniquities: the chastisement of our peace was upon Him; and with His stripes we are healed. Isaiah 53:5
As God's children living in this world, it isn't uncommon for us to feel wounded at times in our life.
But sometimes, it seems like the wounds never heal and only become deeper and more painful as days, months or even years pass by.
We begin to see life as a constant hurt, each day harder than the next. It becomes hard to smile a real smile, hard to laugh a genuine laugh. Sure we enjoy some things, but we aren't truly living the joy-filled life that God created for us
as His children.
Do you remember that God sent His son Jesus for the very purpose to save us? Jesus shed His blood for each and every one of us so that we can life a life free of the baggage that life sometimes puts on us. Too many times we choose to carry the baggage of grief, fear, guilt, shame, or poverty. We are told we are too skinny or too fat, not good enough, not pretty enough, not smart enough or any number of other things that come up during our lives that cause us to not see ourselves as God sees us. We begin to see ourselves as others say that we are.
And we look in the mirror at ourselves and we see a truly distorted image of who we are and who we are created to be.

God says that we are created in His image. How is God described?
God is described as love, as beautiful. He isn't described as poor, ugly or emotionally unstable. He doesn't suffer from disease and He doesn't stress over every little problem that could possibly arise.
He does, however, offer to us a solution to these problems as we face them in this world.
God gave us Jesus as the sacrifice for all of the sinfulness, sickness and disease, cruelty and pain that this world
holds for us.
And as Jesus went to the cross, He shed His blood for us... all of us!
And it is in the shedding of the blood of Jesus that we are healed, gaining freedom of any and all trials and torments
of this world.

Picture this in your mind.
You are standing face to face with Jesus. You are talking with Him about your sorrow, your pain, your guilt, shame, rejection, sickness and fears. And as you stand face to face with Jesus, He simply holds out His hands and says, "Give these things to Me. I will take these things from you and you will be free, healed from all these things. Just let go of them."
But you won't let go. For some reason you feel like you can't let go. You can't see Him take the burdens from you, so you don't fully believe that He will.

I saw a man once who had a pocket on the front of his shirt and it was filled with ink pens. There must have been 20 or more pens in his pocket; many more than he would ever need. They weren't for advertising, so he wasn't giving them away. He just carried these pens in his pocket everywhere he went every day.

I remember laughing at how funny it seemed to be, but God has given me this as an example of the burdens that we unnecessarily carry. Aren't there just too many... and we surely don't need to be carrying them? We may need to carry one pen with us, but the word of God tells us that Jesus came to take away our sins, our inequities, our guilt, pain, torment, fears and sickness. All of these things weigh us down, just as the pocket full of pens weighed down the entire side of that man's shirt... causing it to sag on his shoulder. It wasn't pretty, just as the burdens that we carry aren't pretty either.

It is okay to let our burdens go, to hand the excess over to Jesus.
How can we confess to know Him and to love Him, yet not allow Jesus to fulfill His purpose in our lives?
Do we not see that the death of Jesus on the cross was for the purpose of our release, our freedom for the sinfulness that God knew we would encounter as His children living in this world?
Jesus is ready and waiting for you to hand over that baggage, those unneeded burdens that are weighing you down.
And if you don't feel comfortable handing them over to him all at once, you can hand them over one at a time. Just as if the man with the pens would take one pen out a day and hand it over to Jesus, his pocket would soon be empty and his shirt no longer hanging in an unsightly mess, but fitting appropriately as it was always designed.
God created each of us for a purpose in this world, to live a God-filled joyful life, free of the burdens that can weigh so heavily on us as the days and years go by.

Jesus was born and died for you and me. His blood was shed for us, for the remission of sin for all time. Jesus is life.
It is in His death and resurrection that we are given life abundantly.
When we become overwhelmed with the daily burdens that are put on us, and we fail to understand His purpose... we are not giving Him the honor and glory that He truly deserves as our Savior with His unfailing love for us... for mankind.
Jesus' shed blood is the spiritual bandage that covers every wound! As we allow the Blood of Jesus to cover us, we find ourselves healed of those wounds that have so deeply hurt us. We realize that we no longer have to carry the sins, sickness and torments of today because some 2000 years ago, when Jesus died that horrible death on the cross, it was indeed for you and for me, for generations before us and for generations to come.
We are a loved creation of our Father in heaven.

My prayer for today is that we meet Jesus face to face and hand to Him every burden that is weighing us down. May we feel Jesus, as He wraps us in His loving arms, covering us with His shed blood... that bandage that covers a multitude of problems and sins and heals our deeply wounded souls into complete restoration in Him.

Praise be to our Father in Heaven! Love and Blessings to all in Jesus' precious name. Amen